by C. Elkins, OK Math and Reading Lady
I have an organization idea I have been meaning to share. This is a way to collect students' papers in one place without using a basket for each subject. Pros: You no longer battle the "no name paper" problem. All of the papers are already in alphabetical order. You can glance quickly in a student's file to see what papers a student has turned in (or not turned in). It provides  a good place to put papers needed for absent students. This process also makes it easier to return papers to the students because all of their papers are together. And – it takes up a lot less room than all of those wire baskets. So, you ask, "What is it??"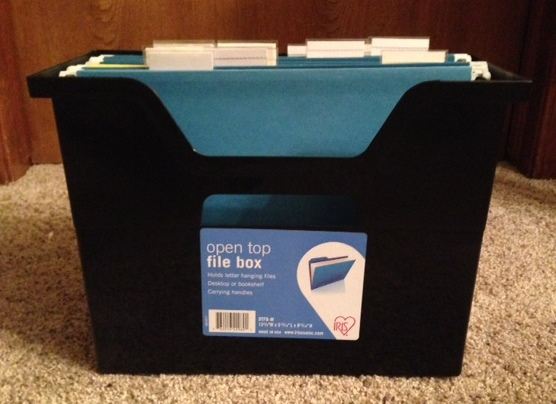 Hanging File Tote Basket
1.  Provide a hanging file for each student, with their name on a tab. Here's a link to Staples for one like the picture: open top file box.  If you are an Amazon shopper, here is the link: open top file boxes
2. Put folders in ABC order (or whatever order you record them in your gradebook).
3. Students turn in their finished (ungraded) paper in their file.
4. Throughout the day, you can spot check to see if a student has turned in their assignment (as opposed to looking through a stack of papers in a basket, some of which may not have names on them).
5. The tote is easy to carry home, if needed. Since papers are already in order, you don't have to rearrange them first to record your grades.
6. If you like placing all of the math together, and all of the reading together, etc. for more efficient grading, just take them out of each folder and grade – they will still be in abc order.
The only issue I remember having with this method is when all of the students finished at the same time (like a test). I had 2 options:  1) Have students line up and add their paper to their file, or 2) Just collect them all and clip them together to grade like you might normally have done.
Enjoy!  Does anyone have a favorite paper collection tips you would like to share?