by C. Elkins, OK Math and Reading Lady
I support you, OK teachers!!!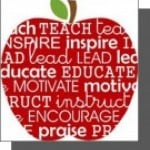 I walked with you in 1990 and in 2007-2008. I feel your frustrations and have been contacting OK representatives and senators this past year on your behalf. Last in pay, overcrowded classes, lack of supplies, on and on – I experienced it myself and see it everyday when I visit classes. I am proud of you, your goals, and your actions to affect change.  I am with you all the way!!!
Today's post will focus on moving children toward more independent writing. A strategy I love to use addresses the following writing points:
Composing sentences
Staying on the chosen topic
Practicing temporary spelling strategies (sounding out, stretching sounds, clapping syllables, thinking of words that rhyme, using related known words)
Applying conventions of print (spacing within and between words, left to right, return sweep, etc.)
Using class word wall (or individual word book)
Proofreading and fluency
I have used this strategy and have felt successful with it. After students have seen me model writing in various forms (example: class news or other shared writing experiences), I usually follow these steps: Continue reading →