by C. Elkins, OK Math and Reading Lady
In this post, I will share some strategies for using concrete manipulatives and pictorial methods to solve multiple digit multiplication problems. By using these methods, students gain a better sense of place value as they work to decompose the problem into smaller units.  Decomposing also allows a student to better perform mental calculations. Some helpful manipulatives:  base ten materials (hundreds, tens, ones); place value disks; cups and pinto beans
What is the purpose of knowing multiple strategies? Some would argue that too many strategies are confusing for students. Some believe the only strategy needed is the standard algorithm. I believe teaching different strategies provides students with choices and improves analytical thinking. With only 1 strategy, if the "steps" are missed, the student has no other recourse. Student choice is a powerful motivator as well because they get a say-so in how they approach their own work.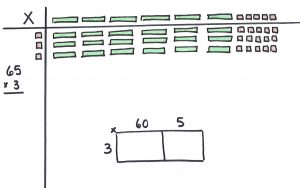 I keep thinking about my past teaching when I only taught the standard algorithm (before I knew better). I recall saying: "Show all your work – because I said so." This means I was not considering the students who were able to do some of the mental calculations in their head. I know I went through the steps in a robotic, don't-question-me way:  "Multiply the ones, carry to the ten's place, multiply again and add the digit you carried. When multiplying the 2nd digit, be sure to watch the placement in the second row and scoot it over to the left one place." None of this conversation (if you could even call it that) mentioned the place value relationship, what the carried digit represented, or why the second row of the answer should be scooted over one place.
Here are some examples relating manipulative and pictorial methods with paper-pencil methods. I'll use the problem 32 x 4. These methods help students use (30 + 2) x 4 to solve.
Base ten: Show 3 tens rods and 2 ones four times.
Place value disks: Show three 10's disks and two 1's disks four times.
Cups and beans: Each cup contains 10 beans. Ones are shown by individual beans. Show 3 cups and 2 beans four times.
Pictorial drawings and decomposing models:
Partial products: This is a great way to help student realize that the 3 represents 30.
Area (box) model: Another ways to visualize and utilize place value knowledge to solve.
When it is time to introduce the standard algorithm, you can relate it to the partial products or area model. I always recommend showing both side by side so students now understand what the carried digit represents, and why the second row is scooted over to the left, etc. Then try some problems like this for your daily mental math number talks (show problem horizontally). I practically guarantee that students who can visualize the manipulatives or the partial products method will get the answer more quickly than those who are performing the std. algorithm "in the air."
I will take a break this summer and come back every now and then between now and August. Keep in touch! Enjoy your summer!!! Let me know if there are topics you'd like me to address on this blog.