by C. Elkins, OK Math and Reading Lady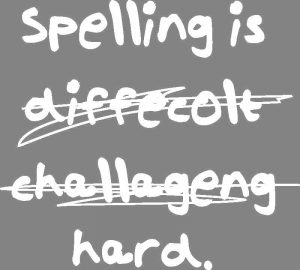 Can u reed wut i am riting? Can u tel frum my riting that i no most uv the mane sonds in werds? I no sum site werds, i no the sonds in order frum left to rite as i strech them out. I no sum vowl paterns. I can evn spel sum 2 silubul werds by trying 1 silubul at a time. After i am dun riting, the teecher helps me pik out 2 werds to lern. Then i practis them a fu timez and add them to my speshul werd book so i can find and uz them agen.
This is an example of temporary spelling appropriate for a late KG-2nd grade student. The "student" was able to focus on the content of their writing using spelling strategies mentioned in my previous posts:
Stretch out sounds or use sound boxes.
Clap to hear the distinct syllables and spell each syllable separately.
Think about spelling patterns from known or rhyming words.
Use words posted on the word wall and/or in the individual word book.
Try words different ways to see which one looks right.
For this student, I would have selected these 2 words (werd/word and frum/from) for further practice because they were used often, close to the correct spelling, and only need minor adjustments. I usually have them circle the words we chose. These words only need minor tweaking and they are likely to be words needed often for future writing. When the words are added to his/her word book, they are there for reference and are more likely to be used correctly in the future. Continue reading →