by C. Elkins, OK Math and Reading Lady
Last week, we looked at some ways to gain number sense about decimals. This post will address using decimals in the operations of addition and subtraction . . . and how to model concretely and pictorially. You can also download the color grid pages along with a free decimal math game in this post. Part 3 (future post) will address multiplication and division of decimals.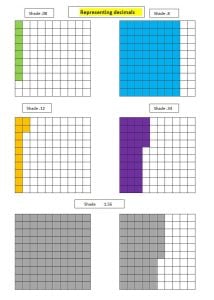 If you missed last week's post, please review it first before continuing with this one. Before performing various operations with decimals, students must have a basic understanding of how to represent them concretely, pictorially and numerically.  Example:  .8 = .80 can be proven with base ten blocks and with 100 grid drawings. This understanding should also be linked to fractions: 8/10 is equivalent to 80/100. Click here for pdf of Representing Decimals page.
Addition  
For concrete practice, use a 100 base ten block to represent the whole (ones), the tens rod to represent tenths, and unit blocks to represent hundredths. Construct each addend and then combine them. Ten tenths' rods become one whole. Ten hundredths cubes become one tenth. Continue reading →